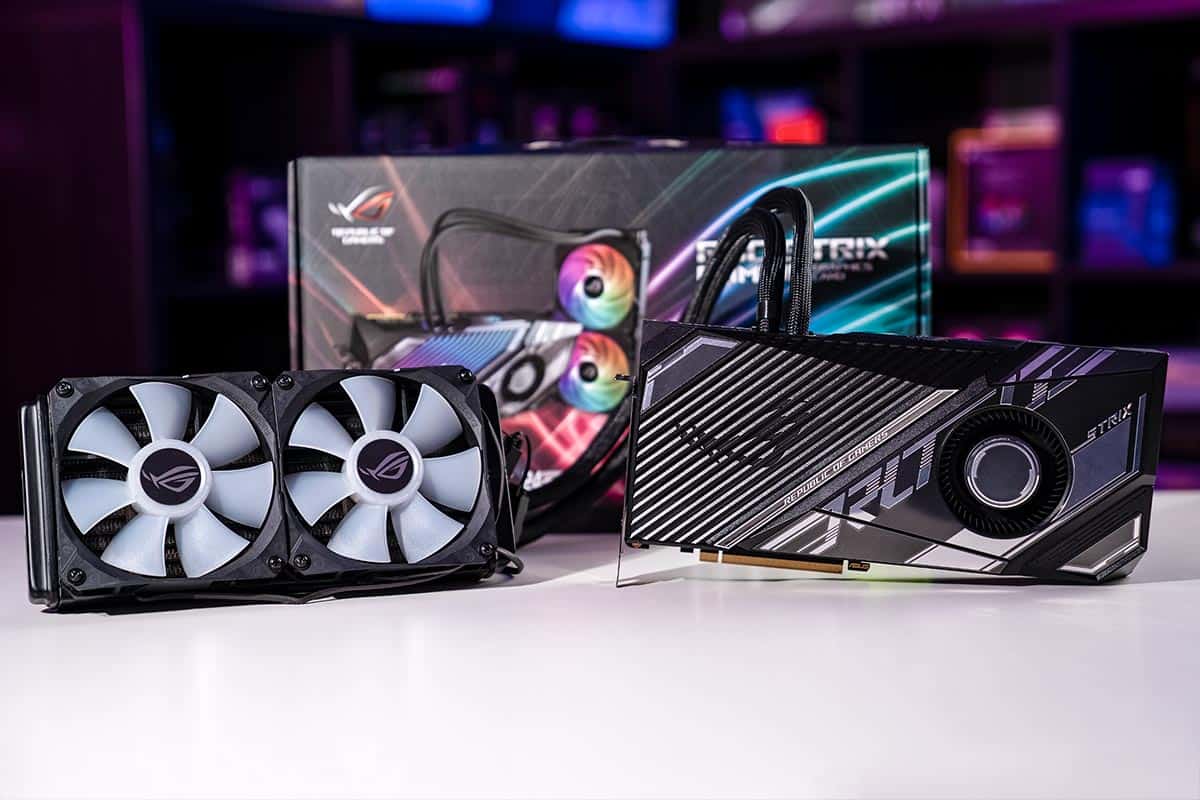 Last Updated:
After numerous delays and rumors, the RTX 3090 Ti did finally release. We in particular look at ASUS' ROG Strix RTX 3090 Ti LC OC. A year and six months after the initial flagship launched, the new one brings with it the full potential of the GA102 chip.  The 350 variant of the GPU comes with a 2% increase in its composition, giving it the likely throne for best graphics card.
Along with changes to the memory clock, overall clock rate, and TDP the card does improve upon all of these. Even if increasing energy consumption may not be a benefit but a necessity to keep it running. However, another key difference is the power connectors used for the 3090 Ti. They have been upgraded to the new PCIe Gen 5 spec. Which can provide the required 450W in one cable.
Coming out so late in the lifespan of the current generation it has been seen as a trial for the upcoming cards. With recent reports of it having the same pinout as for the 4090 as well as the power new power connectors. With all that we see how it currently does.
Asus GeForce RTX 3090 Ti ROG Strix LC OC
Core Clock Speed
1560 MHz base, 1950 MHz boost
Dimensions
Card: 293 x 133 x 52mm, Rad: 272 x 121 x 54mm
Packaging and build
The full name of the model is quite the mouthful being the ASUS ROG Strix RTX 3090 Ti LC OC. But it does give a good indication of what we have. Along with the Strix OC being the top of the class with the highest overclock it is also liquid-cooled (LC). Which creates quite the bulk package when all boxed into one. Hence why the graphics card comes in such a massive box.
With one of the largest stock coolers for its great TDP, the 3090 Ti comes with a three-slot cooler. Other AIBs even spanning to three and a half. So choosing liquid cooling gives way more space for other PCIe cards, or moving the heat somewhere else. So to keep that all in place in the box you get a bunk bed for your GPU. The card itself nestled on top of the cooler with thick foam to protect them both.
Along with the large GPU, you find all the leaflets for your card as well as its trading card. Which does get six stars if you wondered where it falls on the ROG scale. But also you find the important adapter at the bottom for the new 16-pin power connector. Although this one is only 12 pins as the 4 data pins are not present and not required. So it can only provide 450W until new power supplies with the full 16 pin spec release. As for now, the octopus connector will give the power but not the communication required for the next generation of cards.
Plucking out the actual card and we can admire the quality and build of the card. Choosing water cooling cuts down on the bulk of the slot in GPU quite significantly. Although the weight is still there from the water block and liquid contained there. Three is also a blower fan on the card for extra cooling of power delivery, but we're not sure why this couldn't be covered by the water cooling as well.
Along with the actual graphics card, there is also a 240mm radiator for the integrated cooling. Attached by two tubes for liquid flow, they are also paired with the connectors for the two 120mm integrated fans. Providing plenty of cooling for the whole card whilst giving some flexibility to the build.
Strix LC design offers a unique and colorful design. With a full front plate, there is full face coverage that is sharp and edgy. The cutout grooves in the corner glow in RGB with the ROG logo to light up and offer some personalization. It also has a ROG logo on the side to face out of your case and of course, the RGB fans are addressable too. So you can ensure your build is how you like it.
The back also is designed to blend in and fit with the rest of the design. Along with the PCIe connector, the other side also offers a dying-out SLI connector for consumer cards. However, on the opposite side of the IO is a cutout. Hidden away are two fan connectors. The PWM connectors provide more supply or flexibility to your whole build based on the temperatures of your components. Altogether creating a modern and compact design capable of great performance.
Specifications and price
1560 MHz base, 1950 MHz boost
Card: 293 x 133 x 52mm, Rad: 272 x 121 x 54mm
All in one liquid cooling with 240mm radiator
3x DisplayPort 1.4a, 2x HDMI 2.1
Pros
Excellent cooling

Potential for higher overclocking

Excellent performance
The RTX 3090 Ti has a 2% core advantage over the non-Ti card. It brings with it a more upgraded and binned GA102 chip in the 350 variant over the base 300. Coming in with 10,752 CUDA cores, 84 RT cores, and 336 tensor cores. Slightly increasing over the previous one.
Although it comes with the same 24GB of GDDR6X memory it has got an upgraded clock. It has been increased to 21 Gbps compared to 19.5 Gbps. This edges the bandwidth just over the line with 1,008 GB/s.
But it also boosts the frequencies of the whole cores has been increased. The base clock has been set to 1,560 MHz with the boost clock increased to 1,860 MHz. But the Strix pushes that closer to the 2 GHz threshold with an OC of 1,980 MHz. Even then frequently in testing, it did get over the top with a peak o 2,070 MHz.
However, all the extra parts and frequencies do make it more power-hungry. With the TDP increasing by 100W to a toasty 450W. Which does require all the extra cooling which we take a look at after.
In terms of price, the MSRP for the RTX 3090 Ti is $1,999/£1,879. With the custom AIB and overclocked the Strix is going to cost you a bit extra. It will usually add an extra $200/£200 on top. Which in comparison to the MSRP isn't a big leap and a 10% more.
| | RTX 3090 | RTX 3090 Ti | RX 6900 XT |
| --- | --- | --- | --- |
| GPU | GA102-300-A1 | GA102-350-A1 | Navi 21 XTX |
| CUDA cores | 10,496 | 10,752 | 5,120 shaders |
| RT cores | 82 | 84 | 80 |
| Tensor cores/TMUs | 328 | 336 | 320 |
| Memory | 24GB GDDR6X | 24GB GDDR6X | 16GB GDDR6 |
| Memory clock | 19.5 Gbps | 21 Gbps | 16 Gbps |
| Memory bus | 384-bit | 384-bit | 256-bit |
| Bandwidth | 936.2 GB/s | 1,008 GB/s | 512.0 GB/s |
| Base clock | 1,395 MHz | 1,560 MHz | 1,825 MHz |
| Boost clock | 1,695 MHz | 1,860 MHz | 2,250 MHz |
| TDP | 350 W | 450 W | 300 W |
Thermal design and cooling
With such a high TDP it's not unlikely to see thick air cooling designs. Like the founder's edition card is three slots thick with many AIBs even bigger. So it's not surprising to see partners resorting to liquid cooling the graphics card.
There are multiple advantages to doing so. Firstly, the main reason is reducing the size of the card. So the slot in is now only two slots so easier to fit into smaller cases and tighter fits or even give you your PCIe slots back. 
Secondly, it can move the heat away from the GPU and surrounding components. As the liquid will take the heat to the radiator away from the card and can be placed in an area not affecting other parts. So it can now directly dispel what is out of the case instead of recirculating it inside. With 560mm tubing, you can get it to most of the usual places to mount your radiator. 
Lastly, it is a great cooling solution. As with a larger thermal capacity, it takes more time to get to a large temperature with all the liquid capacity. As well as providing a much larger surface area to get rid of that heat emanating from the radiator.
Overall, this gives the card great performance and overhead. Throughout our testing, the card never went over 57°C keeping it very cool with a lot of room to play with. The fans were also very quiet as they did not need to spin so fast. So the only thing you can hear when pushing this card is the coil whine that may not be as much of a problem in an enclosed case.
There is also a blower fan on the card itself. This is for the power delivery components that may not get the full benefits of the water cooling. And making sure they perform how they should. Even that fan doesn't require much speed so performs very well.
ROG Strix RTX 3090 Ti LC OC benchmarks
We benchmarked the GPU on Nvidia's 512.16 driver optimized for the graphics card. With all the games at our usual settings at max, we could push the card as far as modern gaming could push it. Even at 4k and ray tracing to see how it can perform. As well as some synthetics to see how well it does.
Our test bench:
CPU: AMD Ryzen 5 5600x
Cooler: BeQuiet Dark Rock 4
RAM: Corsair 2x8GB 3200MHz Corsair Vengeance (XMP)
Motherboard: AORUS X570 Pro (re-sizeable bar enabled)
PSU: ROG Thor 1000W
Case: Cooler Master MF 700
Esports titles don't pose an issue for the behemoth of a card. CS:GO even at 4k reaches 368 FPS but you may find struggle with the frame drops and the 1% being so low. Although that may be more due to our own test setup. For a newer title, Fortnite also at epic settings has no issues reaching 88 FPS at 4k and more than 144 FPS at 1440p. Rainbow Six also just gets over 60 FPS at 4k but with some tweaking can be improved. From more competitive titles, Warzone also manages over 120 FPS over 4k.
For visual and story games, Dirt 5 manages over 100 FPS at all resolutions and comes quite close to with ray tracing on as well. Doom Eternal finds itself running smoothly as all at all resolutions and ray tracing, with all bar the 4k ray tracing over 200 FPS. Far Cry 6 as a newer title is a bit more demanding with its high quality. So the spread is only between 68-86 FPS between 4k and 1080p, but this is at max settings. While Shadow of the Tomb Raider goes above 60 FPS in all even with ray tracing giving the great performance and experience.
RTX 3090 Ti hashrate
Without any sort of overclocking or power management, we tested the 3090 Ti hashrate. We managed a reported hashrate of 126 MH/s but with an average of 113.6 MH/s. 
Conclusion
Coming out so late in the life cycle of the 30 series and advancing on an already expensive and powerful it is an interesting release. More likely a test for the RTX 4000 series, the RTX 3090 Ti does come at an expensive price. At $2000 it is an unlikely pick for our next GPU but some creators might have a need for it. With faster VRAM and frequencies some may find the use for it.
However, the ASUS ROG LC OC variant is a great model for the 3090 Ti. It manages to keep it cool even with its high TDP and performing so well. It exceeds its own overclocking to give you the most out of your card.