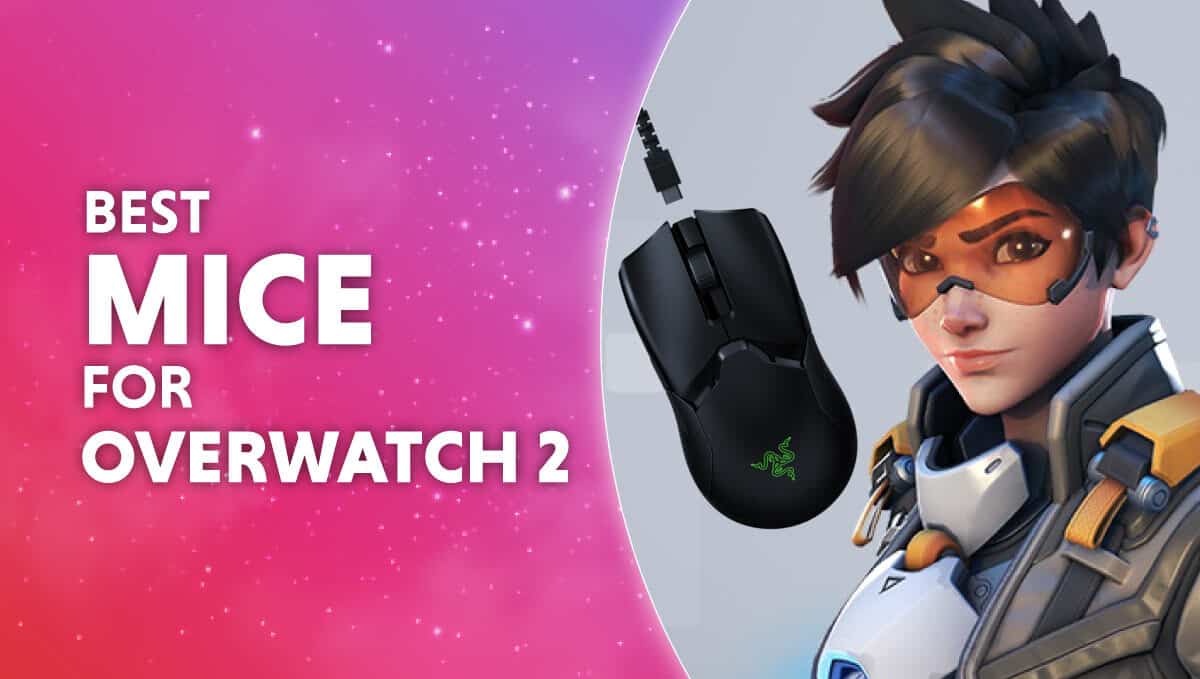 Last Updated:
With the public release of the Overwatch 2 beta a few days ago fans of the populace esports title have boarded the hype train for the next installment. Given both the popularity and competitiveness of the original fans are clamoring to climb the leaderboards in Overwatch 2 by any means necessary, including getting hold of some new kit. So, let's have a look at the best gaming mouse for Overwatch 2. Additionally, if you're looking for a visual upgrade in time for the sequel, we've had a look at some great monitors for Overwatch 2 too.
Considering that Overwatch is a competitive FPS hero shooter there are a few things to consider when picking the best mouse for peak performance in Overwatch 2. The two key things to consider here are the mouse's sensor, weight, and the number of buttons. This is applicable to other hero shooters like Apec Legends and Valorant too.
Mouse weight
Much like any other FPS game, generally speaking, you want a very lightweight mouse. This allows your reflexes to remain unhampered and helps make those all-important flick shots more reliable. Of course, this is down to personal preference but the general consensus is that lighter = better. Given the rising popularity of ultralight gaming mice like the SteelSeries Aerox 3 wireless, you can get a low-weight mouse for relatively cheap these days.
Mouse buttons
As with Valorant and Apex legends, the varying amounts of abilities available to each individual hero mean that being able to quickly and accurately activate these abilities is very important. The best way to do this is to remove the binds from the keyboard and put them on your mouse. This makes it easier to hit the button without having to think about it as your thumb will already be over the button in question. So, the mouse will need side buttons, and, preferably, a DPI shift button too as it can be valuable for those of you with a penchant for using sniper rifles.
The best mice for Overwatch 2
So, we've covered the ideal characteristics for a mouse that will allow peak performance in Overwatch 2, now let's have a look at the mice that tick the right boxes. We'll also include a few additional mice to cover all our bases.
Razer Viper Ultimate Wireless gaming mouse
Size (L x W x H)
126.73 x 57.6 x 37.81mm
If you've seen our best gaming mouse page you won't be surprised at the reappearance of the Razer Viper Ultimate. It's got a great ambidextrous design, an impressively low weight, and the best charging solution we've seen for a gaming mouse thus far. Additionally, Razer's Focus+ 20,000DPI sensor is very accurate, with no spinouts or loss of tracking. If you're performing badly in Overwatch 2 with this mouse, it's not going to be the Viper's fault. If you're after more information, read our full Razer Viper Ultimate wireless gaming mouse review as we get into far more detail about the design, performance, and build quality there.
Logitech G PRO X Superlight
Size (H x W x D) mm
125 x 63.5 x 40
We had to give a nod to Logitech here. The G Pro X Superlight is the only realistic competitor to the Viper Ultimate, and it even beats it in some aspects. One of these aspects is weight as the G Pro X Superlight manages to be a full 11g lighter, so if you favor lightness above all else for Overwatch 2 domination, you might prefer this. Happily, we actually compared the Viper against the original G Pro so if you're struggling to decide, read our Razer Viper Ultimate vs G Pro Wireless page as it might help you settle on a final decision.
Glorious Model O- wired gaming mouse
Sensor
Pixart® PMW-3360 Sensor
Size (H x W x D) mm
120 x 63 x 36 mm)
While it isn't the lightest mouse out there, this is the lightest on this list. Despite the diminutive weight, it retains great grip, ergonomics, and a novel glossy texture which makes the mouse adhere to the hand considerably better than the competition. Additionally, the skeletonized honeycombed shell helps with grip and allows an interesting glimpse into the guts of the mouse. Said glimpse is of course illuminated with vivid RGB lighting. Check out our full Glorious PC Gaming Race Model O- gaming mouse review for a more in-depth look at this great gaming mouse.
Best mouse for Overwatch 2: Final word
Luckily enough, the process of choosing the best mouse for Overwatch two hasn't been a tricky one as we've tested a lot of FPS mice over the years, and many members of the WePC team play hero shooters in their spare time. Cross-referencing those two factors led us to the selections you see before you and we are confident that whichever one you pick, you'll have a great time playing Overwatch 2.