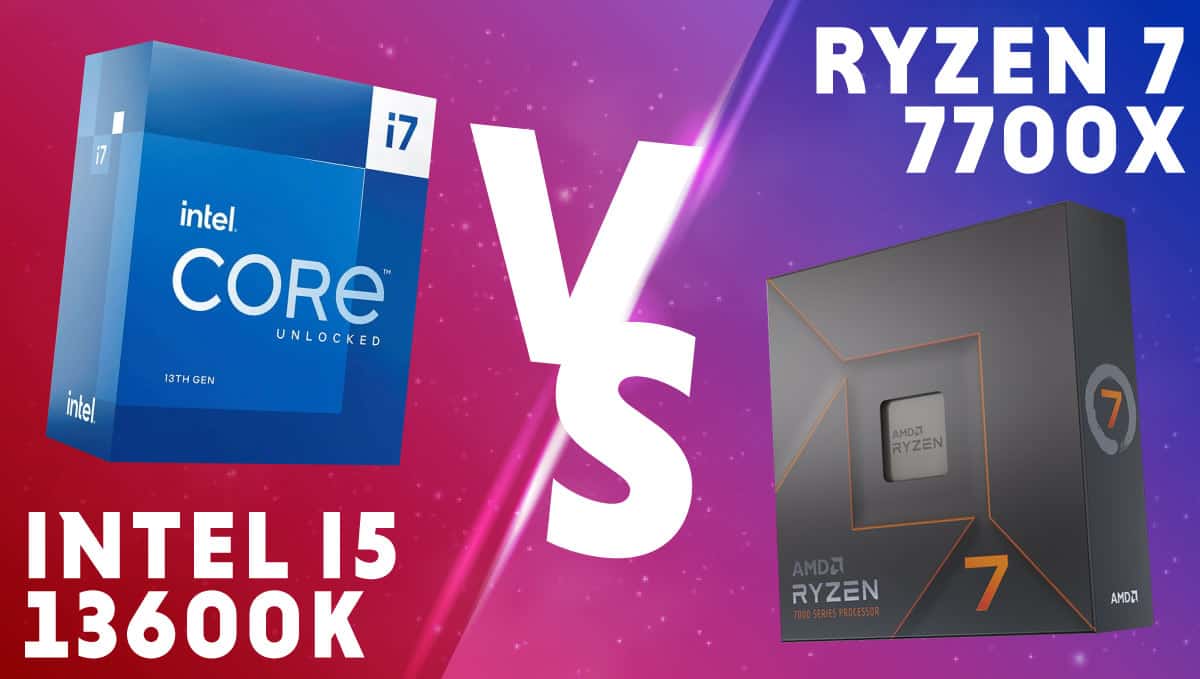 Struggling to choose between these two CPUs? We have a comparison for you that should help seal the deal on one of these fine pieces of silicon.
Updated: Oct 14, 2022 3:01 pm
Intel is about ready to launch its 13th generation Raptor Lake CPUs. the official launch date is set for October 20th, 2022. The 13th generation of CPUs is said to bring substantial performance improvements over Alder Lake CPUs. But how does the 13600K stack up against the 7700X? Here's our Core i5-13600K vs Ryzen 7 7700X article. 
Now Read: Best AM5 motherboard
Before we dive in, it's important to understand the specifications of both CPUs in our comparison today. 
---
Core i5-13600K vs Ryzen 7 7700X: Specifications
Here we will take look at each of the CPU's specifications, and decide which one would be a better choice based on just specifications alone. This should help you make informed choices about future PC component comparisons you make. 
i5-13600K 
The i5-13600K is designed to be a budget CPU offering gamers great single-core performance at the expense of a few CPU cores. This isn't a strong contender in the multi-core performance space, but it will certainly hold its own in any game. 
The specifications of the 13600k are as follows: 
Cores: P-cores 6 / E-cores 8
Threads: 20
Base clock frequency: P-cores 3.5 GHz / E-cores 2.6 GHz
Boost clock frequency: P-cores 5.1 GHz / E-cores 3.9 GHz
L3 cache: 20MB
Default TDP: 125 W / 181 W boost.
iGPU: Intel UHD graphics 770
Ryzen 7 7700X 
The Ryzen 7 7700X is a middleweight of sorts, offering decent single-core performance on the Zen 4 CPU core, but still offering eight cores to aid in multi-core performance. This CPU may very well become the favorite among gamers on a budget. 
The specifications of the Ryzen 7 7700X are as follows: 
Cores: 8
Threads: 16
Base clock frequency: 4.5 GHz
Boost clock frequency: 5.4 GHz
L3 cache: 32MB
TDP: 105 W / 170 W boost
iGPU: RDNA 2
With that being said, let's consider some of the differences between AMD and Intel CPUs.
---
Things to consider when comparing AMD and Intel CPUs
Intel adopted split-core technology with their last generation of Intel CPUs (Alder Lake). With this technology, the efficiency of Intel CPUs increases, meaning you get a better performance per Watt rating. 
The way these split cores work, is the cores in the 13600K are split into both performance (P-cores) and Efficiency (E-cores). There are six performance cores and eight efficiency cores present in the 13600K.
The performance cores are heavy hitters, whereas the efficiency cores handle tasks with lower power demands. The 13600K saves energy by not using up the big performance cores to perform small tasks. 
AMD CPUs, however, are different. All Zen 4 cores in the 7700X are the same, they have the same base and boost frequencies and they're all the same physical size and architecture. 
Now let's jump into the specification comparisons of both CPUs to determine which is better based solely on specifications. 
---
i5-13600K vs Ryzen 7 7700X: Specification comparison
Here we will compare the specifications of both the 13600K and the 7700X to determine which is the better CPU for you, based on your use case. 
Core and thread counts 
The Ryzen 7 7700X has superior core and thread counts. 
Having a higher number of CPU cores mean that your CPU will be better at multitasking. A higher number of cores means a CPU will also be better at workstation or render-based tasks that require a larger amount of cores to complete efficiently. 
Threads are different. To give a CPU "threads" is to enable the ability of each CPU core to process two instructions simultaneously, this secondary instruction is called a thread. Threads are not physical components on the CPU die, and as a result, they have to share resources with physical CPU cores. This makes them slightly slower at processing as a result. 
Core speed 
The Ryzen 7 7700X has a faster core boost speed than the 13600K. 
A CPU core speed is a measurement of how many times a CPU core can complete the CPU instruction cycle in one second. 
A CPU instruction cycle is comprised of three main actions, these are: fetch, decode, and execute. These actions are what comprise fundamental computing as we know it today. The faster the CPU can complete this cycle every second, then the faster the CPU can process instructions. 
This is especially handy for gamers, as games rely on flew CPU cores to get the job done, so those CPU cores need to be fast. 
Cache
The Ryzen 7 7700X has more cache than the 13600K. 
A CPUs cache is a type of volatile memory constructed on the CPU die very close to CPU cores. The reason for this is to eliminate latency and facilitate speed. CPU cache needs to have fast access to the CPU as it's primarily responsible for feeding the CPU instructions to calculate. 
The more CPU cache you have the more instructions you can queue, giving the CPU swifter access to workloads, and increasing performance. 
TDP 
The Ryzen 7 7700X has a lower TDP. 
TDP stands for thermal design power, and it's the maximum amount of thermal energy an electrical component can emanate at maximum load. 
Both the base and boost TDP ratings are lower on the 7700X meaning it's more efficient and it produces less heat as a result of that heightened efficiency. This is particularly beneficial if you have a less capable cooler, maybe one you haven't upgraded in a while. 
The lower your TDP is, the more efficient your CPU is as it wastes less energy, but a higher TDP is often more indicative of a more powerful CPU. 
---
13600K vs 7700X performance 
We don't have our hands on the 13th-generation CPUs physically, but we did get a snippet of the performance during Intel's latest innovation event. 
Intel CEO Pat Gelsinger told us that Intel's 13th-generation Raptor Lake CPUs perform around 14% better in single-core workloads and up to an astonishing 42% better in multi-core workloads. This is compared to Alder Lake. and we know that the Ryzne 7000 series is about on par with Alder Lake in terms of single-core performance. 
---
Final Word
The Ryzen 7 7700X has to be the favorite for us this time around. With its larger amount of cores and threads combined with the faster core speeds, this CPU is sure to fulfill all your needs. If you're a hybrid gamer/streamer or gamer/content creator, then this is definitely the CPU for you. 
We hope you enjoyed our 13600K vs 7700X article.