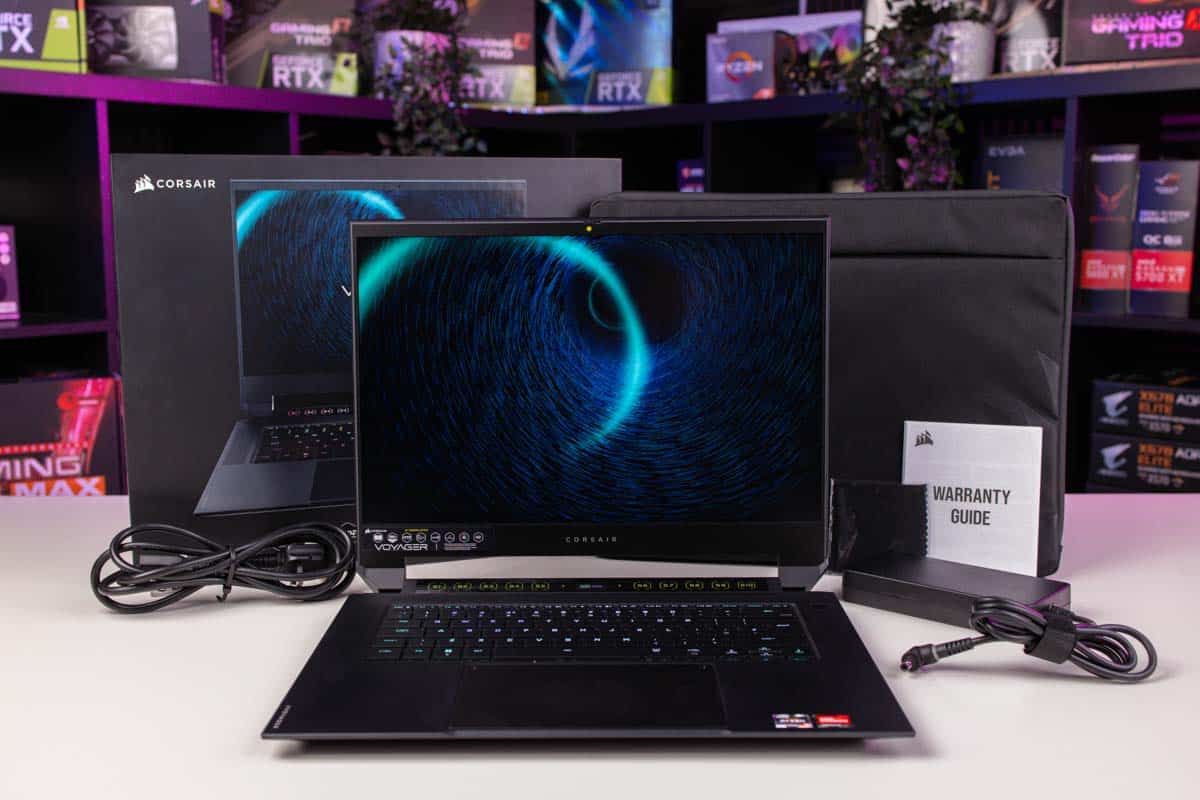 We test & benchmark the Corsair Voyager a1600 streaming laptop
Updated: Oct 12, 2022 8:54 am
The Corsair Voyager a1600 is the well-known peripheral company Corsair's first foray into the gaming laptop space, and there's been a great degree of excitement and speculation regarding this laptop and how it will perform.
The Voyager a1600 is specifically designed with streamers in mind, and comes with a couple of unique features aimed at this type of end user. Does it come up to scratch though? Read below to find out.

Corsair Voyager a1600
CPU
AMD Ryzen 7 6800HS / Ryzen 9 6900HS
Graphics
AMD Radeon RX 6800M (12GB GDDR6) 16Gbps 1.35V (120W)
RAM
16GB/32GB DDR5 4800 MHz
Storage
1TB/2TB PCIe 4.0 M.2 NVMe SSD
Specifications & upgradability
AMD Ryzen 7 6800HS / Ryzen 9 6900HS
AMD Radeon RX 6800M (12GB GDDR6) 16Gbps 1.35V (120W)
1TB/2TB PCIe 4.0 M.2 NVMe SSD
2x USB 4 Type-C, 1x USB 3.2 Type-C, 1x USB 3.2 Type-A, full-size SD card reader (UHS1), headphone/mic combo jack
Pros



unique in-built streaming features




240Hz display with fast response time




16" high-res QHD+ 16:10 screen




very good battery life




great mechanical keyboard & trackpad




superb build quality




great aesthetics & RGB
Cons



disappointingly poor webcam for a streaming laptop




expensive relative to other laptops with the same gaming power




shortcut bar could have been better implemented
You can open up the back of the a1600 pretty easily using a small Phillips head screwdriver. Doing so reveals that the GPU and CPU are hidden beneath the Vapor Chamber covering.
The two visible DDR5 RAM slots are upgradable, up to a maximum of 32GB DDR5. You also get a second M.2 slot if you want to upgrade your storage at a later date.
All versions of the Corsair Voyager a1600 come with the same AMD Radeon RX 6800M (12GB VRAM) graphics card but different options for the CPU exist. Our review copy came with the AMD Ryzen 7 6800HS but the more powerful AMD Ryzen 9 6900HS option is also available.
Software & unique features
Corsair iCUE
As you'd expect the a1600 comes with the standard Corsair iCUE software which enables you to manage peripherals, alter RGB settings on the laptop, and gives you three performance/fan modes to choose from: Quiet, Balanced, and Extreme.
You can read more about the options available and how to enable them within iCUE on the Corsair website.
Unfortunately, there is not a MUX Switch option within the software as this all-AMD machine comes with the Red Team's Smart Shift technology rather than Optimus, which automatically shifts the power dynamics between the CPU and the GPU where needed – supposedly more efficiently than Optimus does. You can disable this within the BIOS should you wish, but this usually reduces the power of the machine in games, rather than improving it.
S Macro bar
The most visible unique feature of the Corsair Voyager is the S key Macro bar above the keyboard/below the display; this has ten capacitive buttons, five on either side of a miniature screen that can switch between the battery life/time/CPU load/your chosen image (which you set within the iCUE software or the elgato StreamDeck app).
Each of the numbered capacitive buttons can be bound to a specific function (within iCUE or elgato) allowing you to start up applications/run macros with the touch of a button as you would with a regular StreamDeck. Whilst you can customize the colors of these buttons, however, you don't get the option of changing the image of the button to represent that program/macro as you would on a regular StreamDeck. A bar of the corresponding functions can be made visible across the bottom of the display but this obscures whatever you're looking at, and is a bit of an inefficient use of space. This is also annoying if you want to keep your screen maximized on a game say, as it requires you to memorize exactly which button/color represents what, and this small difference reduces its functionality substantially. Additionally 
Corsair SlipStream
Another unique feature of the a1600 is the Corsair SlipStream support, which enables you to wirelessly connect (within iCUE) up to three Corsair peripherals that support the technology, without the use of a USB dongle.
That being said, you do need to connect all of the devices via wires to the laptop for the initial pairing, and this has to be done simultaneously for all of them (meaning you might need a USB-C to USB-A adapter to attach to the USB-C ports if your devices only support USB-A connections). Although this is a bit of a pain initially, if you've already got the necessary Corsair peripherals this could be a very nice functionality boost, freeing up much-needed ports for creatives/streamers.
Design aesthetics & RGB
There's no denying that the Corsair Voyager a1600 is a nice-looking machine, as long as you're not put off by the luminous S Macro bar. The light controls for this are the same as the keyboard backlighting, so turning one off also switches off the other. The keyboard backlighting is nice and bright though when set to max, and can be programmed in a variety of patterns within iCUE.
The gap between the body of the laptop and the display (to allow the S Macro bar to fit between it when closed) seems unusual at first, but you get used to it, and it actually gives a nice height boost to the screen – bringing it closer to your natural eyeliner.
Size, build quality & ergonomics
The dimensions of the Corsair Voyager a1600 are as follows:
Height: 1.99cm, Width: 35.6cm, Depth: 28.7cm
Looking at the weight now:
laptop: 2.4kg
It's not the lightest laptop, and has a slightly high depth (distance between the front and the back when laying on a table), though this can be partly accounted for by the extra vertical height of the 16-inch 16:10 display. Still, it's quite thin at just under 2cm high and fairly portable given the extra screen real estate you get.
Build quality across the entire machine was top notch. The large hinge mounts for the screen were a bit of concern, however they felt very sturdy. Screen wobble was almost non-existant.
Keyboard & trackpad
You'd expect the keyboard of a laptop designed by a company known for its peripherals to be of a high standard, and thankfully the keyboard on the a1600 is probably the best we've ever tested. It uses full-size keys with Cherry MX Ultra-Low profile mechanical switches (which work in conjunction with a membrane layer to reduce the height of the keys) – so it falls under the description of 'optomechanical'. It's a pleasure to type on: being responsive and satisfyingly clicky without making too much noise, needing slightly more actuation force than your average mechanical keyboard, but much less than a lot of membrane boards.
The only potential minor issue is that the keyboard is placed quite far back, however, if you've got big hands this won't be a problem.
Part of the reason for this keyboard positioning is that the trackpad is massive (154.4mm x 100mm to be exact). This Microsoft Precision Glass touchpad feels great to use and is precise, responsive, and has a satisfying sturdy click, but not to the extent you'll wear out your fingers from clicking. 
The trackpad is unnecessarily large unless you have big hands, and we found that we'd occasionally brush the edge of our hands against it whilst typing. However, this can be partially mitigated by being able to turn-off one half (or all) of the pad using the small capacitive buttons at the top. Overall – pretty impressive.
Webcam, ports, sockets, and other features
Unfortunately for a laptop specifically aimed at streamers, the 1080p webcam isn't the best. The image is dark and grainy, and although the onboard software allows you carious options to change the image, it's still subpar no matter what you do. Most streamers would likely use a dedicated camera for their home setups, but surely the advantage of a streaming laptop is that you can do so on the move, ideally without the need for one? Corsair do at least get points for the physical privacy slider, which is a welcome feature.
Looking at the I/O selection you get two USB 4 Type-C ports on the left side, along with a Kensington Lock, a mic/headphone combo Jack, and the AC-in power socket. Both of these USB C ports support power delivery and DisplayPort video output.
On the right is a USB 3.2 Gen1 Type-A port, a USB 3.2 Gen2 Type-C port, and a full-sized SD card reader, which is welcome (although it's only UHS Type 1). This is a respectable number of ports and (assuming you have compatible Corsair peripherals) you can wirelessly attach even more devices than these permit with the aforementioned SlipStream support.
Screen
There is just the one screen option for the Corsair Voyager a100: a 16-inch, 16:10, 2560 x 1600 (aka QHD+), 240Hz IPS display. From a purely gaming perspective, there are zero complaints.
The extra headroom that the 16:10 size provides makes the display extra immersive, not to mention more useful for tasks outside of gaming. The high resolution image is crisp and a pleasure to view content on.
The 240Hz maximum refresh rate is the highest you can get at this resolution in a gaming laptop on the current market, and the real grey-to-grey response time was recorded at 4.7ms – this is just slightly slower than the 4.2ms needed to completely eliminated ghosting at this refresh rate, but certainly fast enough that the vast majority wouldn't notice any, and a very impressive result indeed.
The laptop also comes with FreeSync Premium to help reduce tearing.
Corsair Voyager a100 color gamut results
Corsair claims that the display covers 100% of the sRGB spectrum. We tested these claims for all three color gamut presets and got the following results: 97.1% sRGB, 71.4% Adobe RGB, 73.9% DCI P3
Based on these results alone, you could just about work in the sRGB space on this device for color accurate work, although high-end professionals may want to look elsewhere.
Corsair Voyager a100 color accuracy pre calibration
We tested various accuracy points. The ideal values for each are as follows (to compare against the results):
6500K (White point), 0/m² (Black point), infinity:1 (Contrast ratio), 0 (average deltaE*00), 2.2 (gamma).
Average deltaE*00 variance is the true measure of color accuracy, and anything below 2.5 is what you want to aim for.
The results were: 6877K (White point), 0.1062/m² (Black point), 1141:1 (Contrast ratio), 1.77 (average deltaE*00), 2.1 (gamma).
The average delta score (the main determinant of color accuracy) was very good, as was the gamma result, although the other three results were fairly mediocre.
Corsair Voyager a100 color accuracy post calibration
Although it's often unnecessary, we like to see what a quick calibration can squeeze out of a display.
The results were: 6857K (White point), 0.1091/m² (Black point), 1112:1 (Contrast ratio), 1.72 (average deltaE*00), 2.2 (gamma).
There was a slight improvement to white point, average deltaE*00 and gamma, in exchange for a negligable worsening of the black point and contrast ratio. Most users probably won't want to bother with these slight improvements, but they may be of interest to those looking to squeeze out the most in these three areas.
Corsair Voyager a100 panel uniformity
Generally, any average color variation under 1.00 is good and shows up as green in the image above, though the average consumer won't be able to tell much difference below 3.00. Visual editors who work with color however may have a keener eye.
The results we got on the Zenbook 17 Fold OLED were respectable. Most variation was below 1.00 average delta (in green), with the right edge of the display showing a maximum variance ranging between 1.95 and 3.15 (in yellow), depending on the panel. The very top left segment also showed a maximum variance of 2.37. Besides in the bottom right corner which hit 3.15, the untrained eye likely will notice no variation at all on the screen, though color-trained professionals would be bale to detect slight discrepancies along the right side. Although the color accuracy is good, this level of variance along the right would probably put off professional creatives working to the higher standards of color accuracy, but the panel is still probably good enough for the majority of creatives not working at this level.
Corsair Voyager a100 brightness
We finished off our color accuracy testing by running a luminance test. Corsair claims a 625 nit peak brightness, though we assume this may just be when watching HD video (which the laptop is capable of, though not of general HD content).
We did not do an HD video test but our usual general brightness test, and recorded a a peak brightness of 360 cd/m² and a minimum of 18.14 cd/m². This is considerably below what Corsair claims, but still certainly good enough for indoors use, even in brightly lit spaces. Outside in direct sunlight on a sunny day though, you may have some issues.
When using the laptop indoors during the daytime we'd recommend matching the brightness to 120 cd/m² which equates to a brightness setting of 43% under the brightness controls for this laptop.
Audio
The speakers on the Corsair Voyager a1600 were nothing to shout about, but not terrible either. 
They're above that of the frankly dreadful XMG Neo 15 speakers, but noticeably below that of those on ASUS laptops (like the Zephyrus G14, Flow X16, or Strix SCAR 17 SE) which tend to be the best out of all gaming laptops.
The max volume was just loud enough for most uses, including watching YouTube and Netflix, but we would have liked to have seen it go a bit louder. Bass replication was mostly non-existent, as is typical with most gaming laptops, but the overall sound quality was reasonable.
Battery life
One of the biggest advantages of opting for an AMD Ryzen 6000 series laptop over an Intel 12th gen laptop model is the improved power efficiency. 
We did our usual test of two hours of fullscreen YouTube, then the rest web browsing and typing on GoogleDocs. We set the laptop to 50% brightness, with performance set to Silent mode within the iCUE software and with all background applications and RGB switched off.
We got around 7 hours in this test, which is a very respectable result, and definitely well above average when comparing it to other 16-inch, 1600p laptops with core components this powerful.
Performance, noise & temperature
Noise
Quiet and Balanced modes (as set within the iCUE software) were exactly that. If you're just web browsing or typing away on a train etc. then Quiet mode will pretty much eliminate most of the noise you'll experience. Balanced mode is fine for general use and gaming where you don't need to squeeze out the most performance or don't want to wear headphones. Extreme mode (which we did all our performance benchmarking in) was very loud however when the laptop was put under strain in-game, though not much more so than a lot of other high-end gaming laptops. You'd probably want to play with headphones or, if streaming, work out a way to eliminate the noise from your broadcast.
External temperature
The surface of the Corsair Voyager remained fairly cool throughout use, including the keyboard and trackpad.
The general experience when web browsing on Quiet mode was fine. We also had absolutely no issues with the external temperature of the laptop whilst gaming, though admitedly this was on Extreme mode where the fan speed is maxed out. Gaming on Balanced Mode could increase the surface temps somewhat, but not to any degree of discomfort.
Internal temperature
We tested the Corsair Voyager a1600 with AMD Radeon 6800M and AMD Ryzen 7 6800HS in both its native 1600p resolution and at 1080p across a range of titles on different graphical presets. The performance/fan mode was set to Extreme within iCUE.
The following temperature results were recorded across both resolutions and all presets. To give you a loose idea, the low-to-mid 90's is where thermal throttling starts to take place on a CPU, and the high 90's is where damage to the longevity of components starts to occur.
Overall the maximum CPU temps are pretty much standard for a gaming laptop, if a little on the high side. Interestingly there was quite a lot of variance in the average CPU temps, average GPU temps, and GPU max results, which could point to AMD's Smart Shift at work.
Corsair Voyager a1600 benchmarks
The below benchmarks paint an interesting picture. Overall the AMD Radeon 6800M and AMD Ryzen 7 6800HS within this machine underperform at least one high TGP RTX 3070 laptop we've tested, coming further below RTX 3070 Ti laptops in most titles, though not in every instance. CPU-heavy Far Cry 6 performed the best, being roughly comparable to the RTX 3070 Ti powered ASUS ROG FLOW X16, particularly at 1600p resolution although CS:GO, another CPU leaning title, performed far worse than we would have expected. The recorded average CPU temp was highest for this game, despite it being an older, non-demanding title, which could point to some sort of performance compatibility issue specific to this game, rather than the power of the components.
Besides CS:GO Assassin's Creed Valhalla performed the worst overall, across all settings, underperforming high TGP RTX 3070 machines. Doom Eternal however ran surprsingly well, considering this is an AMD machine and so can't take advantage of DLSS for that extra performance boost. Compared to the aforementioned high TGP RTX 3070 laptop, it underperformed slightly on the lower graphical settings but actually outperformed on the higher graphical presets and the higher resolutions, with or without Ray Tracing turned on (likely due to the higher VRAM of the 6800M).
One consistent takeaway was that the performance drop between 1080p resolution and the native 1600p was the smallest we've seen to date in any machine we've tested, so gaming at 2560 x 1600 on this machine is very viable.
Final Word
Whether the Corsair Voyager a1600 is right for you ultimately depends on on what you prioritize. If you're after a stripped-back machine purely for gaming on at the highest FPS, you can certainly get more for less money.
The Ryzen 7 6800HS version we tested has an MSRP of around $2,699, and for over €300 cheaper (at the time of writing) you can get a 240Hz XMG Neo 15 E22 with a superior Intel Core i7-12700H CPU and the highest TGP Nvidia RTX 3070 Ti graphics card on the market, not to mention the inclusion of a MUX Switch you can toggle in the internal software. This would get you better performance in games and workstation software, albeit with worse speakers, a smaller 1440p 15-inch display, less impressive build quality, and much blander aesthetics/RGB.
Ultimately what you're paying for with the Corsair Voyager a1600 is the unique S Macro bar, Corsair SlipStream features, and the 16-inch QHD+ display, not to mention the high-end aesthetics and build quality, and the best keyboard we've ever tested on a laptop. Although we would have liked to have seen a better webcam, and a more streamlined implementation of the S Macro bar, the features are undoubtedly useful and not something you'll find anywhere else. If all these sound like something you'd be interested in, you very likely won't be disappointed with the Corsair Voyager a1600.