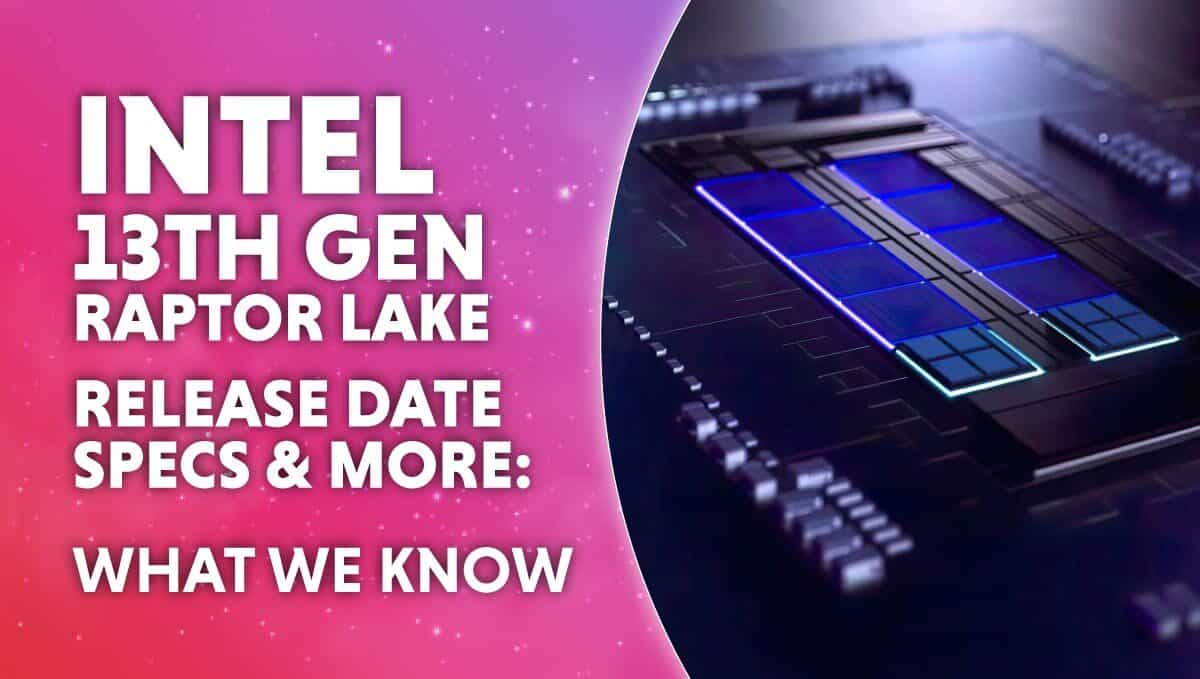 Everything we know on Intel's up-and-coming 13th generation Raptor Lake CPUs.
Updated: Oct 14, 2022 5:34 pm
Intel's 13th gen Raptor Lake marks the 13th generation of Intel Core processors, succeeding the 12th-generation Alder Lake chips released in 2021. Intel will continue to build upon its hybrid core design first introduced in the Alder Lake processors, making use of high-performance P-cores and low-power E-cores to get the job done. 
We're going to provide everything we know so far on Raptor Lake, including the release date, price, and specifications. We're even going to speculate on some other more exciting points too. Stay tuned for more info as it becomes available.
Now read: Best Intel 12th gen motherboard 
Intel's 13th gen is said to be less of a major update and more minor improvements over Alder Lake, and a chance for Intel to iron out some issues and inefficiencies that LITTLE.big implementation brought to the table. Based on this, we predict that the 13th generation of CPUs will do well in the sense that they will hold their ground in single-core workloads, but still fall victim to the mighty AMD regarding multi-core performance.
Intel 13th gen Raptor Lake is said to be releasing a few weeks after AMD's Zen 4 CPUs, which puts the release of 13th gen into the end of September/beginning of October territory.
Some of the topics we will be discussing in this article are: 
What is Raptor Lake?
13th gen release date
13th gen price
LGA 1700 socket
Rumors
Leaks
---
Intel 13th gen release date, Raptor Lake confirmed
During Intel's Innovation event 2022, CEO, Pat Gelsinger, revealed a lot of information about Intel's latest and greatest CPUs.
This included some performance information, stating that the Raptor Lake family will have a flagship CPU containing up to 24 Performance and Efficiency cores, up to a 15% better single-core performance gain, and up to 41% better multi-thread performance gain. 
Not only that but it was stated by Pat that Raptor Lake will officially launch on October 20th, 2022. So we're less than a month away from Intel's latest CPU launch.
If you want to read more, you can read our Intel Innovation article here.
What retailers will stock the Intel 13th gen CPUs on release day?
Generally, every launch to date has gone on Amazon across many regions of the globe and it is more than likely to be the same with Intels 13th gen too.
Other retailers such as Best Buy will also stock the processor for those looking to shop in the US and Canada specifically.
For those in the UK and Europe, Amazon, Ebuyer, Scan, Overclockers, and many more should be selling 13th-generation processors.
What Intel 13th gen SKUs will we see on the release date?
The following Intel 13th-gen processors are being released on October 20th and will be available to buy from most retailers:
Stock tends to be a bit more forgiving with CPUs, however, with the power we are seeing, they could be snapped up sharpish.
---
Latest 13th gen Raptor Lake news
Here we will report the latest Raptor Lake news, please take some of this information with a pinch of salt as some of the sources are merely leaks. Although, we do our best to only report reputable information from trusted sources.
Latest intel 13th gen News: Intel plans to unveil its 13th generation "Raptor Lake" CPUs on September 27th, 2022. We also know that this is the same day that AMD moved the release of their Zen 4 processors and AM5 motherboards. Coincidence? We do not think so.
Intel recently unveiled its 13th Generation CPUs at the Intel innovation 2022 event. Here's everything you need to know.
Intel may be in trouble this time around based on the projected performance of the 7000 series at AMD's Zen 4 unveil on August 29th, 2022. The massive performance lends its hand to the massive IPC increases we're seeing this time around.
AMD's Zen 4 release date is drawing nearer, yet we still don't have any official word on the Raptor Lake Intel 13th gen release date. The latest leaks suggest that the release date may be several weeks after AMD debut its Ryzen 7000 series CPU line-up. This could be damaging to the sales of Intel's 13th-generation CPUs, as this release is far less of a performance leap than the 11th gen to 12th gen switch.
---
Intel announces first 6 GHz CPU
Intel has officially announced, during its Tech Tour 2022 as covered by WccfTech, that Raptor Lake will feature the first-ever 6GHz CPU, presumably the 13900K
The strange thing is, that the 13900K does not have an advertised clock speed of 6 GHz, it has one of 5.8 GHz. So it could be possible that Intel is referring to a KS model (presumably 13900KS). The last released special edition CPU is the i9-12900KS. However, it's not normal for Intel to release two KS CPUs one generation after another. 
If you want to read more on the subject, have a read "Intel confirming the world's first 6 GHz CPU"
---
Gigabyte announces support for Raptor Lake CPUs
Gigabyte announced recently that the support for Intel's new generation will be available across all of its Z690, B660, and H610 motherboards. This also includes the DDR4 models. Gigabyte is now the fourth manufacturer to bring support for Intel 13th gen to their products vis a BIOS update. The list of companies that have already announced support includes ASUS, ASRock, and MSI.   
With the big motherboard manufacturers adding support for Raptor Lake and Intel within one month of each other, and Intel's recent business strategy of cutting AMD off. We could be looking at an August/early September release date for the 13th gen CPUs. 
The days draw ever near to the 13th gen "Raptor Lake" CPU unveiling, what kind of performance uplifts are you expecting this time around?
Read our Gigabyte adds support for Intel 13th gen CPUs article to learn more.
---
13th Gen 13900K engineering sample appears on CPU-Z validator
An engineering sample of the suspected i9-13900k was validated by the CPU-Z validator on the 20th of July 2022. We don't know who posted the results, as all we have to go off is a generic Microsoft-given system name, DESKTOP-4BR4UIF.
The leak came to light when accurate leaker @TUM_APISAK posted about it on their Twitter account.
The suspected 13900k engineering sample scored a very respectable 846 points in CPU-Z's benchmark. This is a full 27 points ahead of last gen's single-core giant, the 12900KF.  This translates to around a 3.5% performance improvement. 
and in Multi-threaded benchmarks, The prospective 13900K scored 13,054 points in CPU-Z's multi-thread benchmark. This is only marginally above the Ryzen 9 5950X, which scored 11,841 points. This roughly translates to a performance improvement of 10%. 
Click on our "Suspected Intel i9-13900K appears on CPU-Z Validator" article to learn more.  
---
What is Intel's Raptor Lake? 
Intel Raptor Lake is the codename for the up-and-coming 13th generation of Intel Core processors based on a similar hybrid architecture (LITTLE.big) as Alder Lake. Intel is still using the same P-core and E-core architecture as Alder Lake. 
Raptor Lake will be built upon Intel 7, which is Intel's in-house 10nm manufacturing process. Raptor Lake is built based upon the LGA 1700 socket, meaning Intel might be keeping its promise to keep LGA 1700 relevant for a few years. 
There's not much official information out there just yet about Intel's Raptor Lake, but it has been said by Intel that its 13th generation flagship contains 24 cores (8-P + 16-E) and 32 threads. 
The 13th gen Raptor Lake CPUs will continue support for DDR5 memory, despite the issues 12th-generation CPUs have faced with the new RAM standard.
---
What is LITTLE.big? 
LITTLE.big is a hybrid architecture designed by ARM. Splitting cores using ARM's LITTLE.big technology was Intel's 12th generation's biggest talking point when it was unveiled, and the way LITTLE.big technology works is very interesting. 
How the split P-cores (performance) and E-cores (efficiency) work exactly is the performance cores are both hyperthreaded and clocked insanely fast to handle all the heavy lifting – hence the name 'performance'  
Then there are the E-cores, which aren't hyperthreaded and are clocked at lower speeds to be more power-efficient. This is because E-cores do not share resources with threads as they aren't hyperthreaded. 
In the case of Windows, the operating system assigns tasks to either E-cores or P-cores based on a scan of an instruction set by a task scheduler before it hits a CPU core. It saves power by not running P-cores on tasks that don't require a lot of processing power.   
---
Intel 13th gen socket
Intel's 13th generation Raptor Lake CPUs will be based upon the LGA 1700 socket, just like the 12th generation, Alder Lake, that came before it.
This is due to the fact that Intel promised to keep LGA 1700 in use for a couple of years, as even the most avid Intel fans were getting tired of needing new motherboards every CPU generation.
---
What is LGA 1700?
The LGA 1700 socket was announced back at CES 2021, specially designed for Intel's latest hybrid architecture. The LGA 1700 socket features an additional 500 contacts compared to its predecessor (clues in the name). Intel has increased the socket height by 7.5mm and changed the socket dimensions to 78mm x 78mm. 
LGA 1700 supports all the latest motherboard technology, such as the DMI 4.0 x8 Bus interface, up to 128GB ECC memory, up to 4 USB 3.0 ports, 1 x 16x or 2 x 8x PCIe Gen 5 slots, and Optaine memory support. Just to name a few. 
---
Raptor lake Price (predicted)
Intel's 13th gen isn't too groundbreaking in terms of improvement over Alder Lake, it's going to be a subtle performance improvement with some optimizations. And we're going to treat the predicted price as such. 
We're predicting that we may see a 5%-15% price increase over Alder Lake chips, depending on the CPU of course. So these are the prices we predict for Raptor Lake. 
I9 – 13900K – $739 to $750
I7 – 13700K – $410 to $440
I5 – 13600K – $320 to $340
I3 – 13100 – $130 to $150
Please note that all of these prices are predicted, We don't even know all of the 13th generation SKUs for certain yet. So take these prices with a grain of salt. 
It's unlikely we will see a 13900KS this time around unless Intel makes serious improvements to the 13th generation based on the performance of AMD's Zen 4 CPUs. 
---
Intel 13th generation Raptor Lake CPU specifications (rumors)
At the very same investor meeting that gave us our rough release window, a few Intel 13th generation specifications and key features were mentioned. We don't have too much on Raptor Lake right now, but here's what we do have. 
Intel's adoption of ARMs LITTLE.big architecture is expected to continue into Raptor Lake, this comes as a surprise to nobody. Intel has certainly gained strength with the inclusion of ARMs technology in their CPUs. 
Intel's February 2022 Investor meeting also revealed that Raptor Lake flagships could include 24 CPU cores in an eight-performance and 16 efficiency-core configurations, totaling 32 threads. 
Intel also said it's aiming for performance improvements over Alder Lake in the double digits, presumably meaning a percentage increase. If this is true we could potentially see a new "worlds fastest" CPU within the 13th gen line-up. 
Based on Intel 7, the 13th generation of CPUs will be built upon the 10nm process. 
---
Raptor Lake CPU line-up 
The full Raptor Lake line-up has been leaked by the YouTube channel Adored TV. 
The key points here are that the core and thread counts vary massively from 24-core and 32-thread, in the high-end i9 systems. To four-core and four-thread, in some of the more budget-focused Intel Pentium chips. 
This diagram depicts the full 13th gen CPU line-up set to release sometime in the second half of 2022. 
We've already seen TDP numbers, they are very similar to Alder Lakes numbers, suggesting that Raptor Lake might be a little bit more efficient if we're seeing higher potential clock speeds with the same TDP. 
According to Wccftech, we could see the flagship Raptor Lake CPUs hit 5.8GHz boost speeds. That is seriously impressive considering the TDP will remain in the same ballpark as Alder Lakes.
---
Intel 13th gen Raptor Lake performance 
A Twitter user by the name of @TUM_APISAK, spotted benchmark results of a high-end 13th gen chip – presumably the 13900K. 
The result of which stated that the Raptor Lake chip was around 20% faster than the 12900K and AMD's  Ryzen 9 5950X – Receiving a score of 114% on UserBenchmarks. However, we're sure AMD will have something to say about this when it releases the first of its Zen 4 CPUs. 
---
Final word 
the Intel 13th gen release date is nearly here and we couldn't be more excited.
There's not much out there in terms of news regarding Intel's 13th generation of CPUs, but we can assure you that the fight for the top dog between AMD and Intel will continue. Intel's Raptor Lake is promising some pretty strong things, but will it hold up? Or will it flop as the 12900KS did? 
We will update information in this article as more up-to-date Raptor Lake info comes to light. We hope you found what you were looking for in this Intel 13th gen Raptor Lake article.