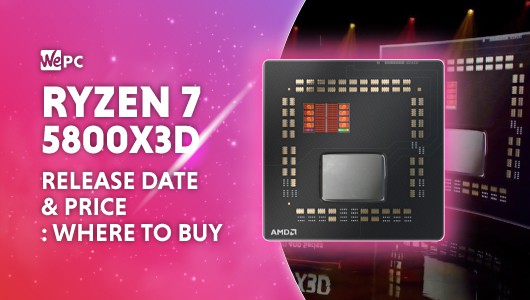 Last Updated:
Are you looking to buy a Ryzen 7 5800X3D? Good news, you came to the right place.
The Ryzen 7 5800X3D is the newest Ryzen 5000 series CPU to hit the market from AMD, and it's promising great things. The 5800X3D boasts many great features and advancements, such as the new 3D cache technology, which promises to improve performance in a way we've never seen before. We know the Ryzen 5800X3D release date, the price, and more importantly… Where to buy.
The 5800X3D is based on the much loved AM4 socket, so if you already have a Ryzen desktop CPU there's no need for a motherboard upgrade. We're sure you're already sold on the Ryzen 7 5800X3D, so let's take a look at when it hits the market and where you can buy it from.
Ryzen 7 5800X3D release date
The Ryzen 7 5800X3D release date was leaked recently, according to Disclosuzen on Twitter (whose account is now suspended). The AMD Ryzen 7 5800X3D will be released on April 20 2022. Disclosuzen has a near-perfect track record in the leaking game, so it's a snippet of information we trust. 
Ryzen 7 5800X3D price
Again, according to Disclosuzen, the Ryzen 7 5800X3D will release at $449, the original RRP of the 5800. 
These claims however have recently been substantiated by a Twitter user named momomo_us. Momo has leaked some retailer data on some up and coming Ryzen CPUs, among them is the 5800X3D. 
The Ryzen 7 5800X3D is currently listed by two retailers, but one shows a 428 EUR price tag. This is slightly over $449 (409 EUR) which is the rumoured retail price for this CPU.
Ryzen 7 5800X – where to buy? 
We've done all the hard work for you, with a list of all the places you can find a Ryzen 7 5800X3D. 
Ryzen 7 5800X: where to buy (US)
Ryzen 7 5800X: where to buy (UK)
Ryzen 7 5800X: where to buy (Canada)
AMD Ryzen 7 5800X3D specifications
The specifications of the Ryzen 7 5800X are impressive. The most notable new feature is the all-new 3D cache, to help significantly increase size without diminishing speed. 
Here's an overview of the 5800X3D specifications according to AMD's website: 
Cores: 8
Threads:16
Base clock speed: 3.4GHz
Max boost speed: 4.5GHz
Total L1 cache: 512KB
Total L2 cache: 4MB
Total L3 cache: 96MB
Default TDP 105W
TSMC 7nm FinFET
Socket: AM4
Memory type: DDR4
AMD has made some bold claims that the new 5800X3D CPU will out-perform the 5900X and the 12900k in some scenarios. We can't wait to get our hands on it. 
Whether you're looking for the 5800X3d release date, where to buy or just looking for the sake of it, feel free to ask ust any questions down below. We're sure we'll be able to help.