Here we explain why the budget 7600X is one of the best CPUs for gaming. Especially if you're on a budget.
Updated: Sep 26, 2022 2:00 pm
AMD has just released its Ryzen 7000 series CPUs to the market, and they are taking the world by storm. We have been eagerly waiting in anticipation for Zen 4 to release for what seems like forever now. And now that it has we want to focus on one particular aspect of the 7600X, its blistering single-core performance. Here's why you should buy the 7600X for gaming. 
Now read: Ryzen 5 7600X review 
Let's take a brief look at the specifications of the 7600X so we can better understand how and why it performs as well as it does. 
AMD Ryzen 5 7600X specifications 
Before we jump into the performance of the Ryzen 5 7600X, it's vital to outline what sort of specifications we're working with. 
The specifications of the Ryzen 5 7600X are as follows. 
Cores: 6
Threads: 12
Base clock speed: 4.7GHz
Boost clock speed: 5.3GHz
L2 Cache: 6MB
L3 Cache: 32MB
TDP: 105W
Socket: AM5
iGPU: RDNA 2 based Radeon Graphics
As you can see, even for a CPU considered to be in the "low end" of the Zen 4 generation, it still has a pretty impressive list of specifications. Some of which aren't accurate, more on that later. 
Even though these specifications posted above are somewhat misleading, we saw the Ryzen 5 7600X boost to 5.41GHz on multiple occasions. 
Ryzen 5 7600X single-core performance 
The reason we think that the Ryzen 5 7600X is such a good choice for the hardcore gamers of the world, is because the Ryzen 5 7600X performs around about the same as the Ryzen 9 7900X. 
Allow us to elaborate, we're only talking about single-core performance here, obviously, the 7900X wipes the floor with the 7600X. But how is it that both CPUs perform the same as each other when they're priced so differently?
As you can see the Ryzen 5 7600X performs practically the same in games where single-core performance matters. The only reason we see an increase at all is that the 7900X is clocked slightly higher on the boost frequencies than the 7600X. 
In CGeekbench, the Ryzen 5 7600X scored 2,183, and the Ryzen 9 7900X, a CPU that costs $250 more than the 7600X, scored just 2,259 points. 
The similarities don't just end there, as you can see. In Cinebench R23 the 7600X scored 1,954 points, whereas the 7900X managed 2,022 points. It's pretty much too close to call in both scenarios. Definitely not the performance uplift you would get for $250 extra dollars.  
Why is the performance so similar?
Well, the real answer is that it isn't really. The single-core benchmarks are close because it's the same core and core architecture. But the 7900X undoubtedly wins on multicore performance as it has a whopping six extra cores to work with. 
Both CPUs contain the same Zen 4 CPU core, running at very similar base and boost frequencies. This allows the CPUs to perform similarly in games when multiple cores aren't taken into account, because games rarely use more than four CPU cores at a time, which the 7600X has. 
If you're in the market for a Ryzen 7000 series CPU, you're probably in the market for an Exceptional CPU cooler. Here's our recommendation.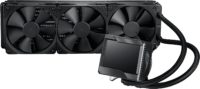 Asus ROG RYUJIN II 360 CPU Cooler
CPU Block Dimensions
78.15 x 87.5 x 81 mm
Socket Support
Intel: LGA 1150, 1151, 1152, 1155, 1156, 1200, 1366, 2011, 2011-3, 2066 AMD: AM4, TR4*
Fans
3x Noctua NF-F12 InductrialPPC 2000 PWM Fans
Features
3.5″ Full Color LCD Screen
The Ryujin ii is an amazing 360mm CPU cooler that manages to keep the 7000 series temperatures below the throttling threshold. This was at 100% CPU load over a full five minutes, seriously impressive considering the high TDP of the 7000 series.
Final word 
So if you're just a gamer, who doesn't stream or perform workstation heavy tasks, then the 7600X is the CPU for you. If you want a solid multi-core performance, this might not be the way to go thanks to it's lesser number of CPU cores.
You save $250, and that's cash you can splash on a CPU cooler to help keep this little beast cool. All of the Ryzen 7000 series CPUs run very hotly. There is a cooler for that, as we listed above.